Amazon Stock Forecast And Price Prediction (Updated May 2022)
Originally published on Best Stocks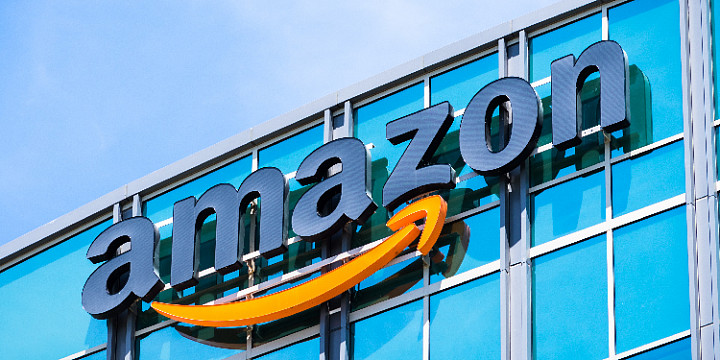 Contents
hide
1 AMZN stock forecast as of May 2022
2 Stock plunge on disappointing Q1 2022, but analysts confirm their Amazon stock forecast at $3,714
3 How the stock split could affect Amazon stock forecast
4 How advertising and AWS growth have contributed to influencing Amazon stock forecast favorably
5 Five-year Amazon (AMZN) stock forecast price
AMZN stock forecast as of May 2022
Amazon stock forecast for the next 12 months averages at $3,680, with a $2,250 minimum price and a maximum of $4,655. Although the 54 analysts making the forecast are still bullish on Amazon, this price prediction represents a drop compared to the average price target of $4,032 made by the analysts pre-earnings.
The latest stock forecast was lowered because of the company's slow growth and poor sales estimation presented during Q1 earnings. In addition, analysts predict slower sales growth for the next quarter, with a growth rate between 3% and 7%, instead of the 9% growth that Amazon has shown in previous months. Because of this, analysts have dropped their Amazon stock forecast by 7% compared to the March price prediction.
Currently, Amazon is trading slightly above the lowest stock forecast. This means that the stock is currently undervalued. Additionally, all the 54 of the analysts have given a BUY rating to AMZN. As a result, the average target price for the next 12 months is 40% higher than the current price.

The stock price of Amazon (
NASDAQ: AMZN
) has been dropping by 27% YTD, underperforming the Nasdaq and losing almost 22%. It has also underperformed the S&P500 by losing 13% in the same period. However, the
market is bullish on AMZN
, thanks to the 20-to-1 share split with a record date scheduled for May 27, 2022. For each stock of Amazon held by that date, investors will receive 20 shares at 1/20th of its current price by June 6, 2022.
There are also rumors that Amazon will be admitted into the Dow Jones Industrial Average after the stock split. The Index does require new companies to have similar prices to the existing ones already listed, and not allowing one to have more importance than the other.. Therefore, according to analysts, Amazon is one of the best stocks to buy now.
Stock plunge on disappointing Q1 2022, but analysts confirm their Amazon stock forecast at $3,714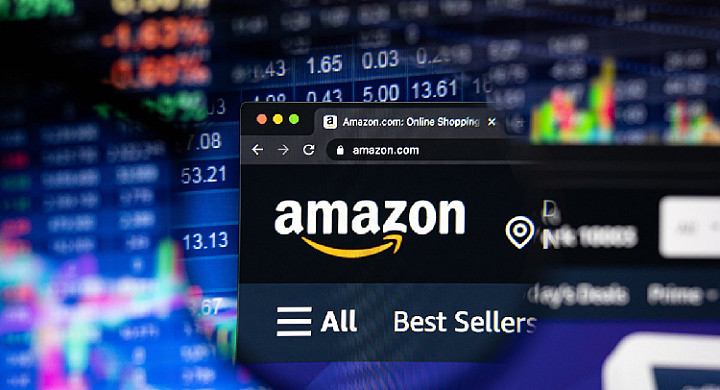 The Q1 2022 earnings report has been a bit of a disaster for Amazon, where the company reported its first two-year loss as sales stalled and prices increased. While the announced revenues were close to the expected result, Amazon reported an EPS of -7.56B versus the 8.49 predicted. This led to the stock plunging by 14.05% after the announcement was made. One thing that contributed to this poor earning result was Amazon's investment in Rivian, an electric car firm. Amazon controls 20% of the company, which lost over 50% of its value; resulting in Amazon suffering a loss of $7 billion.
Regardless of this significant loss attributed to Amazon's acquisition of shares in Rivian, the company's other business areas, such as cloud computing and advertising, continued to grow (as explained further below). That is why analysts haven't changed their stock forecast, which is still set at over $4K. In addition, premium research firms, including MKM Partners and Truist Securities maintained their Buy rating; while Cowen & Co., BMO Capital, and Truist Securities, all kept their Outperform rating.
How the stock split could affect Amazon stock forecast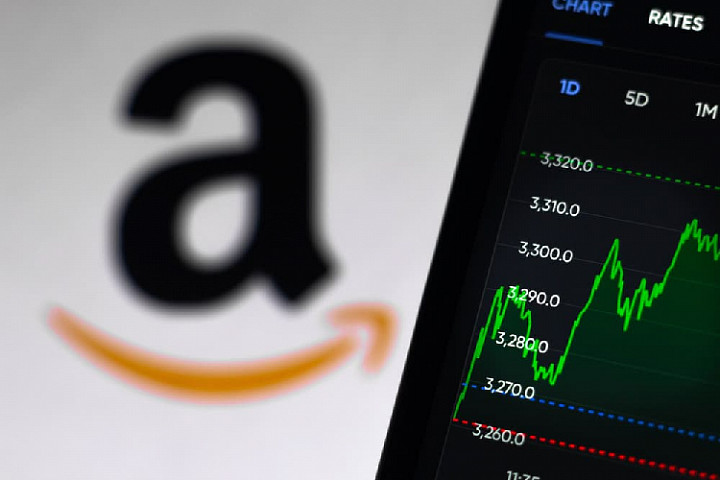 'Amazon has been working toward a stock split for a couple of years now. During this time the company's stock has mostly been increasing at a steady rate, leaving analysts speculating as to whether the split could positively influence AMZN price forecast.
A split would see Amazon's stock split into twenty new shares. The new stock would have a value of 1/20th of the price recorded on the split day. As with every split, you would maintain the same total value: you would have a higher quantity of shares but at a lower price than before.
By looking at Amazon's stock split history, it is evident that each split was followed by a period of high volatility that generally led to an increase in the price of shares:
First Split: A 300 percent gain in share price occurred within six months after the first Amazon split on June 2, 1998.
Second Split: On January 5, 1999, there was a second split. However the price of the company's shares had not changed much six months later.
Third Split: On September 2, 1999, another split was carried out. In the six months after the split, AMZN was trading at a 4% premium to its pre-split value.
A research paper published by the City University of Hong Kong has analyzed whether a stock split would affect the prices of stocks. The research reports: "Consistent with the findings of other countries; we observe positive price reactions."
How advertising and AWS growth have contributed to influencing Amazon stock forecast favorably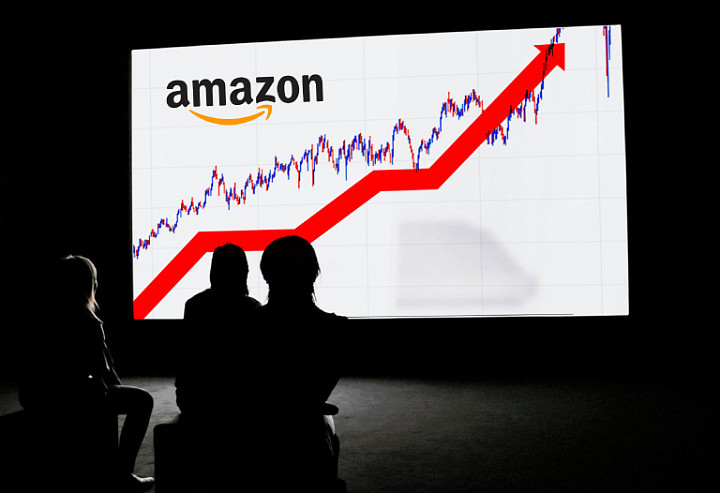 Although Amazon is the dominant e-commerce platform, a portion of the corporation devoted to Amazon's delivery services is losing money and needs significant financial investment. However, the company's retail sector – which offers high margins and long-term development – gives access to a large customer base (Amazon's website receives over two billion visitors every month), enabling the corporation to collect data for advertising purposes.
According to Zenith, the worldwide advertising industry will expand by 5.7 percent in 2023 and 7.4 percent in 2024. The United States will account for over half of that growth, providing Amazon with a considerable advantage.
Amazon's ad business is growing rapidly. In 2021, ad revenue reached $31.2 billion. This was an increase of 58% compared to 2020 and a 146% increase from 2019.
Aside from these exciting projections, there is enough evidence that Amazon's advertising is cost-effective. According to BusinessWire, 58 percent of businesses saw "excellent value" in Amazon advertising, while a Feedvisor survey revealed a seven-fold return rate.
And aside from advertising, Amazon's cloud service accounts for less than 10% of sales but accounts for more than two-thirds of profits. So despite Microsoft (MSFT) and Google (GOOGL) gaining market share, AWS continues to control roughly one-third of this fast-expanding company.
AWS's sales climbed by 37% in 2019. However due to the pandemic, growth slowed in 2020 and increased by 30%, but picked up again in 2021 with an expansion of 37%. AWS growth in Q4 was 40% greater than the previous year. AWS has also posted four consecutive quarters of growth. The cloud market is also expected to soon increase by double digits. According to Grandview Research, the CAGR will be 15.7 percent by 2030. During that time, the current market would have increased by 272 percent.
Five-year Amazon (AMZN) stock forecast price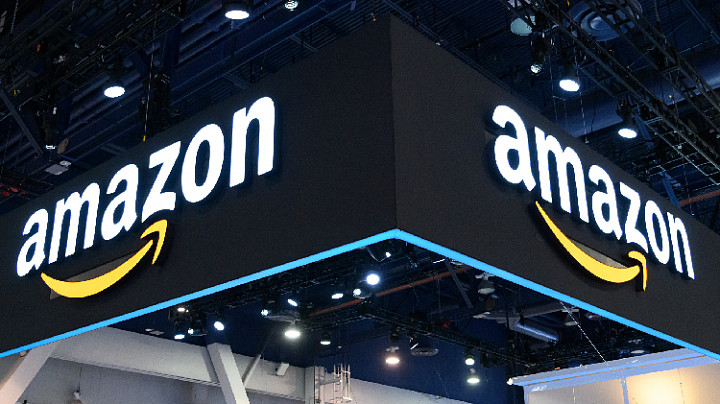 A record closing price of $3,731.41 was set on July 8, 2021. However, inflation, quantitative easing, and rising interest rates contributed to a decline in the price, which continued through the end of the year and early 2022.
On January 27, investment bank BMO Capital Markets had lowered its Amazon price estimate by $800 (down from $4,100). However, since then, most Amazon stock predictions have indicated a price of at least $4,000 per share.
Tigress Financial raised its price objective from $4,460 to $4,655 on February 18. On March 10, Deutsche Bank analysts gave Amazon a 'buy' (previously you've capped 'Buy')rating and a target of $4,100 for their future stock, this followed the news of Amazon's new salary policies.
JP Morgan, a US-based research firm, says stocks are currently undervalued. But, according to the company, "revenue growth will accelerate in Q2 due to reduced competition, the resumption of Prime 1-day/same-day perks, and price increases on Prime and FBA through 2022."
The forecast predicts that Amazon's spending will decline after two years of significant growth and increase its operating profit margins by 100 basis points. Amazon has quadrupled the capacity of its fulfillment network since the Covid-19 outbreak. JP Morgan expects to see a return on this investment by 2024.
According to Wallet Investor, Amazon's stock price will rise by more than $5,000 in the long term, according to its long-term estimate. In late December, an algorithm-based online prediction tool indicated that Amazon's stock price would rise to $3,708,315 and $4,346,483 within the decade. At the end of 2025, the stock can be valued at $5,631.56 and $6,357,492 in March 2027.
CoinPriceForecast's predictions suggested the stock could reach $6,360 in 2030. The 2022 average price was $3,854, while the 2025 average price was $4,720.